For all our Friends in Kassel:
Shelley Sacks will be there from 23-29 August to further develop a multi-layered Agenda for Transformative Action in the context of the University of the Trees!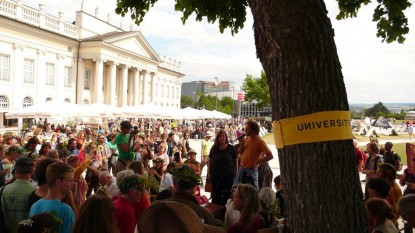 Everyone who has been involved in Earth Forum, the UoT group and local initiatives as well as newcomers are warmly invited to join us in the following programme:
Saturday 23/8 at 1pm
Shelley offers an Earth Forum for 'beginners' who would like to join the deepening EF training.
Monday 25/8 and Tuesday 26/8 from 10 am to 5:30 pm
Deepening Earth Forum training.
Wednesday 27/8 and Thursday 28/8 from 10 am – 6 pm
AGENDA for TRANSFOMATIVE ACTION and field-sensing.
Facilitated by Shelley Sacks, with Wolfgang Zumdick and Karsten Winnemuth.
Click here for further details (in German only).
Location: Werkstatt Kassel, Friedrich-Ebert-Str. 175, 34119 Kassel + Aschrottpark
For more information and to confirm your place write to erdforum@gmx.de or call 0049(0)15739197490!
Both processes are free, but contributions to cover travel costs etc. would be welcome.