2014 May 14 -16, Weekend Workshop, Emerson College, Forest Row, UK
'Social Art: Listening to the Future and Connective Practice' 
Shelley Sacks and Wolfgang Zumdick will run a social sculpture – connective practices programme at Emerson College. It includes two lectures: one on Friday evening by Shelley Sacks – and one on Saturday evening by Wolfgang Zumdick. Shelley will introduce the field of Social Sculpture with her lecture 'Social Art: Listening to the Future and Connective Practice'. Wolfgang will speak on the connections between Steiner and Beuys – and how their ideas inform the field of social sculpture now.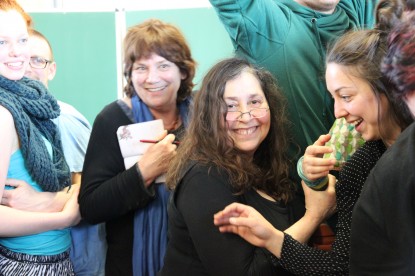 On Saturday during the day, Shelley and Wolfgang will involve all workshop participants in a number of 'connective, social sculpture practices'. Past and current Emerson students will participate and assist them with this.
These practices will highlight connections between Steiner and Joseph Beuys and how their vision of 'social art' or 'social sculpture' is being taken forward and explored through projects like University of the Trees and in the teaching programmes of the Social Sculpture Research Unit.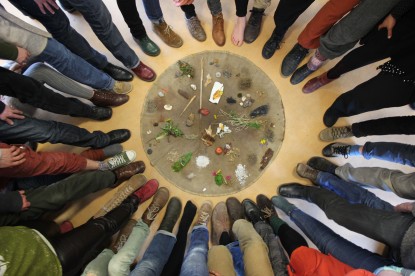 Wolfgang Zumdick's lecture on Saturday night will be followed by a one hour reading from Shelley and Wolfgang's new book ­– ATLAS of the Poetic Continent: Pathways to Ecological Citizenship published by Temple Lodge. (See www.social-sculpture.org/publications)
Following the reading, Shelley and Wolfgang will be available to participate in discussion about aspects of the book.
On Sunday morning from 9:30 – 12:30 we will continue our exploration of the field of social sculpture through University of the Trees and its practices, with another 'connective practice'.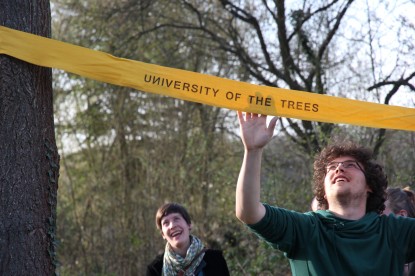 An aim of this weekend programme is to introduce contemporary developments in 'social art' or 'social sculpture' that enhance each individual's current practice and stimulate impulses for new ways forward and some understanding of 'connective practices'.
The programme fee for the weekend is £100 / 75 for alumni.
Accommodation and meals are available on request for an additional amount.
The course takes place in the beautiful grounds and buildings of Emerson College in Forest Row, Sussex.
The programme is open to the public as well as to Emerson students.
Enquiries
Email: yvette@emersonvisualarts.com
Phone: +44 (0)1342 822238
The booking form can be downloaded from www.emersonvisualarts.com